Royal College of Surgeons explores 3D hologram headsets and other hi-tech devices to replace cadaver-based tuition
Surgeons are embracing technology's cutting edge, using the latest in augmented, virtual and mixed reality to transform medical training.
How virtual reality is changing the game in healthcare
Read more
Among the devices the Royal College of Surgeons is planning to explore is the Microsoft HoloLens, a mixed reality headset, released to developers this year, which shows hovering 3D holograms.
The college said it was teaming up with education group Pearson to harness immersive technologies for training students.
Mark Christian, the global director of immersive learning at Pearson, said the HoloLens headset enabled them to explore the possibility of creating realistic holograms to allow students to practise surgical procedures.
He said the approach could avoid traditional cadaver-based training. "You have schools like Case Western Reserve University that have that as their stated goal – within two years to do away with wet labs," he said. The potential for such technologies would be further boosted through the development of haptic technologies, which let wearers of the HoloLens and other devices, such as virtual reality headsets, experience other sensations, such as touch.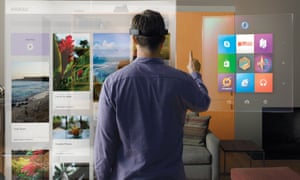 Immersive technologies could also prove a boon in the field of imaging; doctors using the HoloLens could explore entire brains, in images built up from MRI scans, floating in front of their eyes. "It's there, [in] actual 3D," he said.
Shafi Ahmed, council member of the Royal College of Surgeons, said the technologies were the future when it came to education. "[In the next five years] I think most people will be taught with this AR, VR, mixed reality," he said. "Learning will change immeasurably.
Virtual reality powered by … our minds? '10 years from now, it will seem obvious'
Read more
"We are rebuilding [the college] for 2020. In that new classroom environment, there will be no space for cadavers; it'll be case-based anatomy, it'll be teaching and learning using HoloLens and virtual reality – really disrupting 200 years worth of surgical training."
But it might be some time before cadavers are completely replaced by technology. Andrew Reed, the chief executive of the Royal College of Surgeons, said the college would continue to offer cadaveric courses elsewhere in the UK in partnership with other faculties.
Ahmed, who is a cancer surgeon at Barts Health NHS trust and co-founder of Medical Realities, a company working with augmented and virtual reality, is a pioneering figure in the world of medical technology. In April 2014, he live-streamed an operation using the augmented reality device Google Glass, and in May this year he live-streamed the first 360-degree video of an operation.
His vision, he said, was to shake up surgical training and do away with traditional approaches where students in theatre barely catch a glimpse of procedures, while democratising access to training across the world. "Two-thirds of the population, five billion people out of seven billion, do not have access to safe and affordable surgery," he said.
Among other devices under development around the world are alternative approaches to hologram technology. Holoxica, for example, aims to project 3D holograms into a space without headsets.
The complete guide to virtual reality – everything you need to get started
Read more
Augmented reality is also finding its niche. Xpert Eye by Ama is based on smart glasses that allow doctors to remotely provide advice and support to those wearing the glasses, in what the creators dub a "see what I see solution".
Ahmed, said that immersive approaches could aid patients as well as doctors. "The real value of this stuff is already shown in patients with anxiety attacks, phobias, pain relief, and also in patient education," he said, pointing out that VR headsets offered patients a chance to see what would happen to them during a procedure or even watch a recording of their surgery.
Christian agreed, saying technologies such as the HoloLens could offer patients a view of the inside of their own bodies. "I think people rationalise things more in a visual way," said Christian. "We know that an informed patient [has] better outcomes."